Member Moment - Anne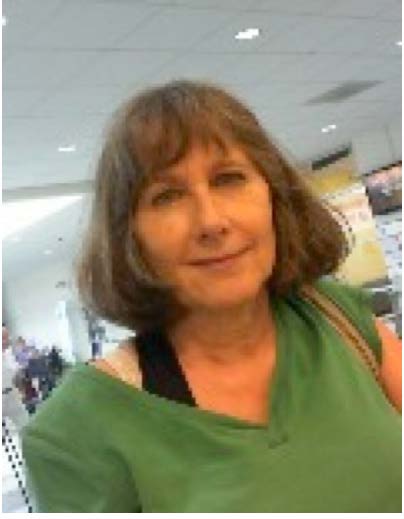 My name is Anne Jogerst and I was very excited to join the YMCA when I retired. I had a few retirement goals: to get fit, to run the VA 10 Miler and to begin volunteering. I recently retired and joined the Y on July 12, 2018.
Eleven years ago, I became very sick and began to experience intense pain. I was diagnosed with rheumatoid arthritis in both hips and shoulders. I was told that water exercise was the only type of exercise I would be able to participate in, due to my diagnosis, and that I would no longer be able to walk or jog for physical fitness. This was shocking to me. For the eighteen years my walking partner and I had walked up to six miles each day. Being told I could no longer do this was devastating.
In addition to my medical diagnosis, I also broke my leg four years ago. I was immobile for 24 weeks after that. My muscle strength began to deteriorate over time. But I was determined to get better, and regain my strength.
After meeting Joy at the Jamerson Family YMCA, I began to follow her advice so that I could reach that retirement goal of running the VA 10 Miler. Joy walked me through the steps, suggested the right machines, got me into classes, and this year I successfully completed the VA 10-Miler; a dream that I almost lost.
I was so excited to join the YMCA and try as many classes as possible. I have been extremely impressed with every class and instructor. The YMCA fosters a wonderful community for the members. And maybe someday, I might even get in the pool.
---
No Kid Hungry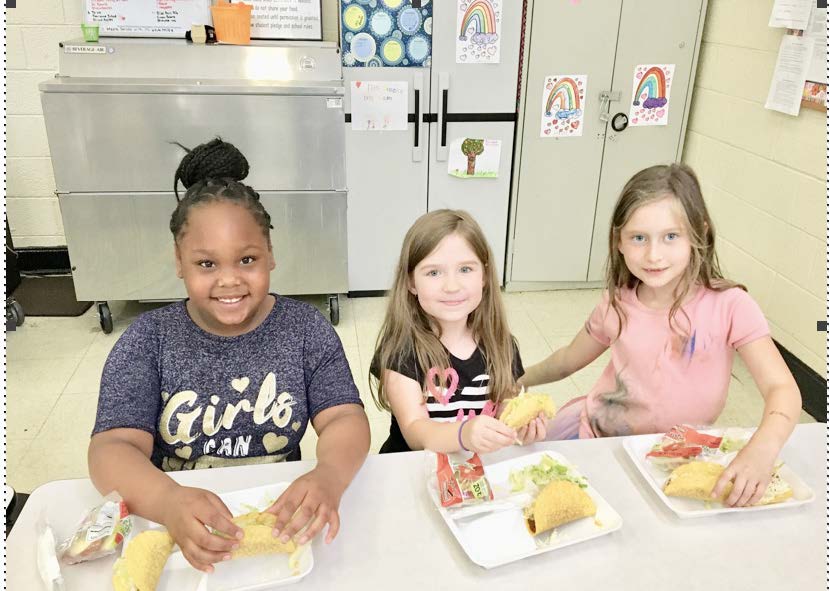 Statistics tell us that one out of every five children go to bed hungry each night. To help put an end to hunger in our community, the YMCA of Central Virginia Child Care Program launched a new initiative with Lynchburg City Schools to bring healthy meals to our kids.
This past spring we began a pilot program at the Perrymont Elementary After School site. Instead of a daily snack, the kids are now getting a healthy dinner before they go home. The kids love it and we love that they are going home with a full belly! Due to the overwhelming success and support of the program we will offer supper to all of our kids that participate in Lynchburg City Schools YMCA After School Child Care this coming the fall.
---
Member Moment - David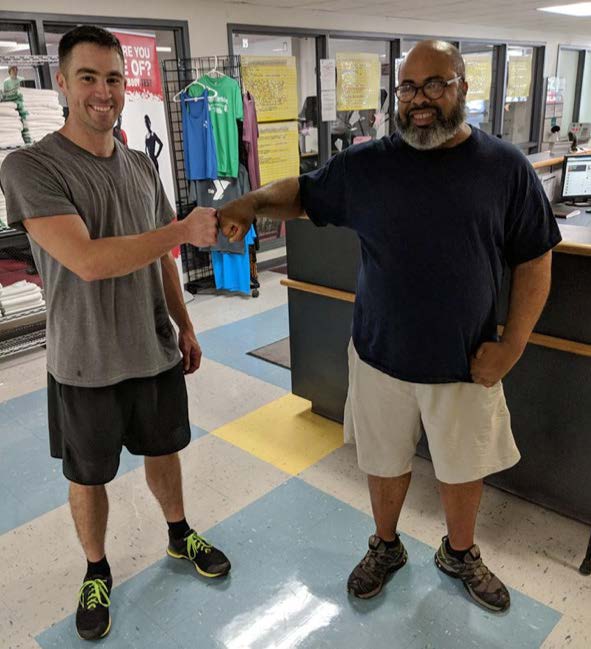 David Hancock joined the Downtown YMCA in January of 2018. Being healthy seemed to be "trendy" to David, but he knew that to achieve a better quality of life, he needed to get moving and increase his level of physical activity.
David had suffered a brain aneurysm, and as a result he was forced to walk with a cane. The sustaining injury from his brain aneurysm limits the left side of his body, his overall balance, and his overall strength.
At the beginning of his recovery he had a strong community of friends rally around him, but as time went by and life went on, his support system grew smaller and smaller. David spent a lot of time at home alone, secluded and isolated from the rest of the world.
That's when David decided to reach out the the YMCA. David has cultivated strong friendships and relationships as a result becoming a Downtown YMCA member.
David and Keith, one of our fitness coaches, have been coming to cycle classes twice a week together. David has since felt like he's part of a community again.
In addition to creating great friendships, David feels that he has become stronger and that his balance has improved. He still uses a cane but it's now there "just in case" not because it is necessary.
David no longer sees being healthy as trendy. He looks forward to coming to the Y. He says in addition to his new Y family he gets to "feel better, be better, and do better in the world."
---
LIVESTRONG at the YMCA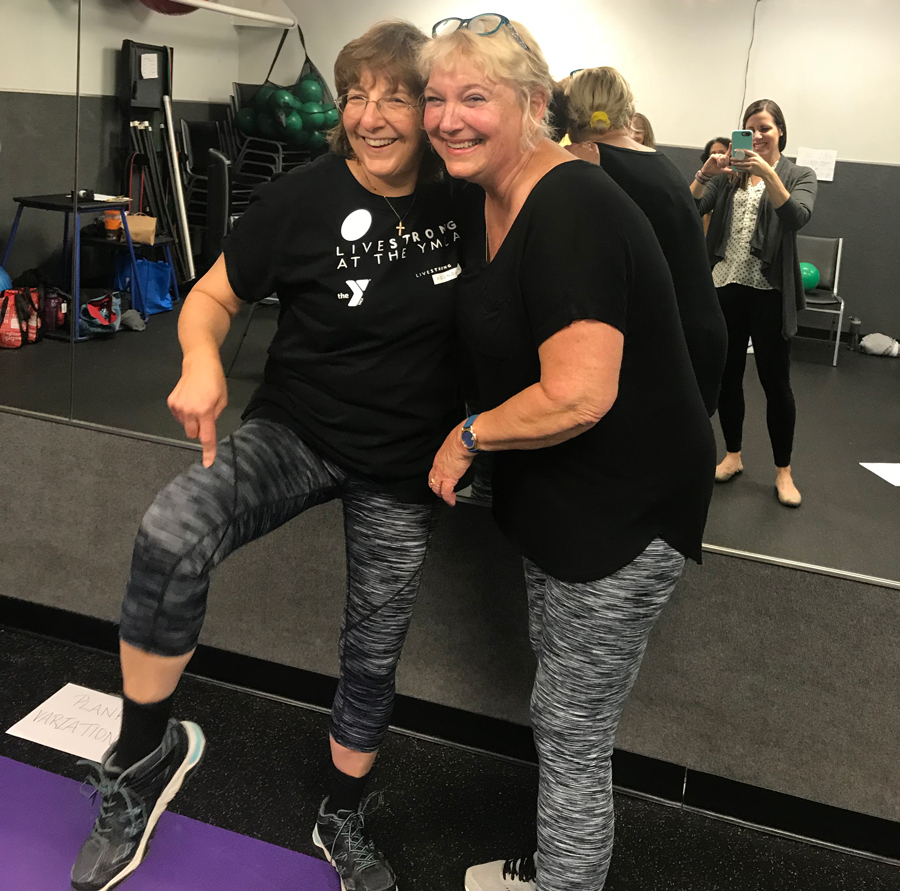 This past fall the YMCA of Central Virginia brought LiveSTRONG at the YMCA, a 12 week cancer survivorship program, to Lynchburg. This program, which is delivered at no cost to the participant, focuses on an individual's overall health and strength in a close knit community setting. Next week 10 adults will come together to celebrate as LiveSTRONG program graduates as they look forward to a healthier and stronger tomorrow.
Read what Amy has to say about the program, and click the link below to learn more about LiveSTRONG at the YMCA, and how it can help you or someone you love.
"The YMCA Livestrong Program is amazing! As a new resident of Lynchburg and a recent cancer survivor, it was important for me to connect with others experiencing similar diagnosis and treatments.
The Livestrong coaches have been extremely supportive and attentive to all of our needs. They encourage us to challenge ourselves through exercise on the mechanical equipment, lifting weights, stretching and poses for cool downs and participating in group activities and additional classes available to all in the Livestrong group. They have invited professional education/medical guest speakers to enhance our knowledge of the path we should follow to promote a healthy body.
I think the benefits from the program have helped in all areas but I love the people and the physical engagement!!! I have always been active and stopped for a while when I was sick because of low energy. But, since the program, my balance has really improved!
I am stronger mentally and physically, and I plan to continue with my membership to the Y in the New Year!"
-Amy Redford
---
"I'm So Grateful for My Y Membership"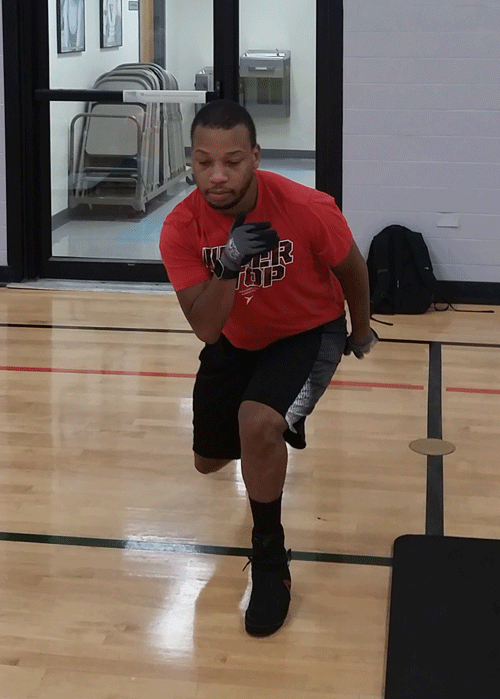 "I discovered the YMCA when I came into Lynchburg, Virginia in 2013. Pretty late, some might say. I found some enthusiastic staff members who created an unbelievable association. First we became friends; and by friends I mean friendships for life. The YMCA became a part of my life. I didn't know much about the huge phenomenon that is the YMCA, but we learned from each other. Jill Bryant, Mary Lynn, Jan Baker and the rest of the amazing staff had become role models and individuals whom I hold in high regard.
After a while, I saw the big picture about being involved at the Y. I saw summer camps, projects, trainings, meetings and community outreach programs. There I figured out the little piece of the big puzzle I was a part of. I've met great people with a lot of experience and I've learned as much as I could from them. This is something that never ends, and even now I'm still amazed on how little I know.
For me, the YMCA means the sense of belonging to something greater than you can possibly imagine. In the YMCA, I have seen nothing but elevation and growth through volunteering, being a project manager, a camp counselor, driver, teacher, mentor, organizer, trainer, trainee, and so much more. This organization does it all and I absolutely appreciate the drive that the staff has. I trust them completely because I've seen their evolution from me joining until now and it is tremendous. My greatest satisfaction is going to work out knowing that no other gym is going to provide the amenities and knowledge that will be provided at the Y.
I'm very thankful to the YMCA for all of the opportunities I've been offered, for the person I am today, and the people my kids will be tomorrow."
Kareem Milner
---
A Life Enhanced, and a Safe Haven Found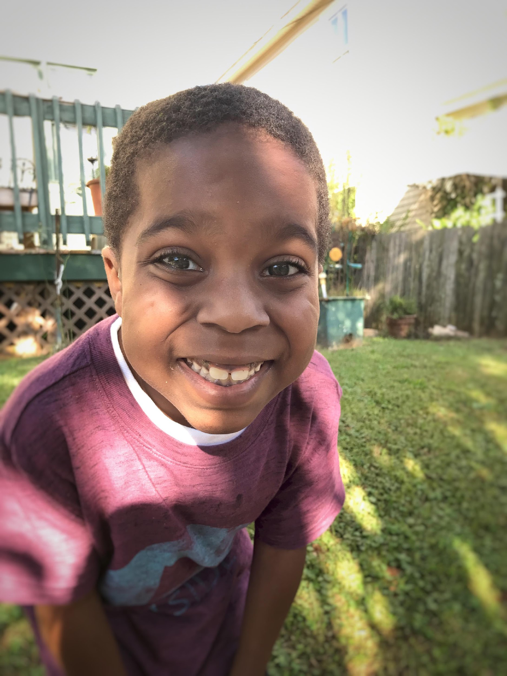 Kingsley was feeling defeated, often struggling to complete reading homework assignments each night. His mother Cheryl, worked tirelessly with her son each night, hoping to spark his interest and elevate his self esteem. Night after night, frustration grew, and tears would often follow.
As summer approached, Cheryl; a single working mother was faced with lack of child care and feared that Kingsley would fall behind without the proper guidance over the long school break.
It all seemed almost impossible until Cheryl was notified of the Y's Summer Achievement Gap Program through Kingsley's school.
The Summer Achievement Gap Program is a six-week program designed not only to tackle summer learning loss in math and reading, but also to foster physical and social-emotional growth.
Thanks to the generous support of donors, the Y was able to provide Kingsley with a safe space over the summer that included transportation to and from, breakfast, lunch and a snack, and a place where he could grow and thrive, all at no cost to his mother.
Kingsley progressed more than anyone could have expected. With the assistance of his teachers, coupled with the support of his mother, Kingsley's literacy skills improved two levels over the six week period.
Kingsley now loves to read, and does so nightly with a great eagerness. Armed with a newfound confidence, Kingsley always aims to achieve more than before.
After the program ended, Cheryl said that the most amazing change in her son is his confidence level. "Now, when Kingsley is faced with a challenge, he is determined to be successful, a far cry from where he was before his time in this program" shared Cheryl. Now he looks at me and says, I'm gonna keep on trying till I get it, because I know I can."
---
A New Found Strength; A Better Quality of Life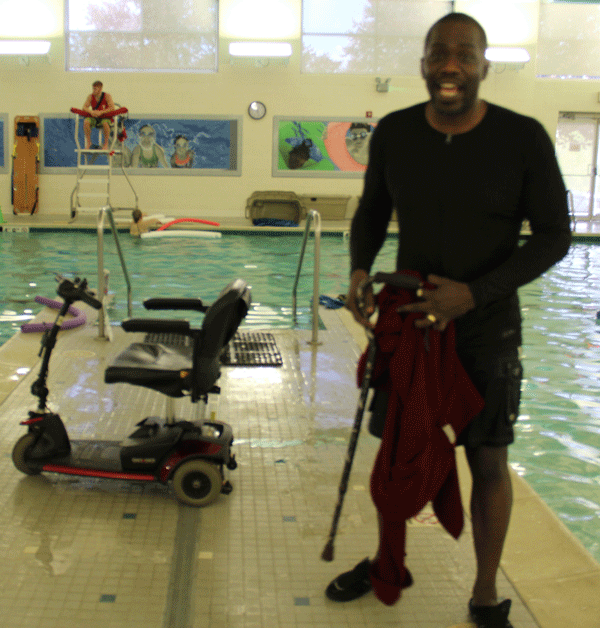 My diagnosis of Multiple Sclerosis brought me to the Y. My balance was bad, I would stumble and was unable to walk. I lost over 70 lb. I was unable to work.
Through this Y program, I rediscovered how to move. If the doors were open, I was in the water. I came three times a week. I learned how to stretch, I learned how to strengthen my balance and posture. I even did Tai Chi in the pool. Now, I don't even need my wheelchair. I learned how to live again because of this program. Because of this program I could face my challenges and move forward."
- Frank Patton
---
A Determined Mother Finds Hope at the Y
When Owen was diagnosed with a proprioceptive sensory disorder his mom turned to the Y for the help she knew her son would need. Read Owen's amazing story below, and learn how the Y gave him the tools and confidence literally, to defeat obstacles.
August 19, 2017
I am writing to follow up with you following the participation of my seven year old, Owen, in your event, Face the Forest. Almost two years ago, Owen was diagnosed with a proprioceptive sensory disorder. When he went for his initial occupational therapy evaluation, he failed every gross motor task. At that point, I put him in swim lessons and Kempo(with Andy and Heather) at the Jamerson YMCA. He also participated in flag football this spring and goes to the kidz gym on a regular basis. Through the combination of these physical activities he has resolved his signs and symptoms of that disorder. Not only that, he has become part of the YMCA community in a major way.
The community aspect of the YMCA, in addition to his improved motor coordination through the physical activities, has been of tremendous benefit to his confidence. This year, he asked me if we could do Face the Forest together and I signed us up to do it. He was so anxious and a little irritable but upon arriving to the event he was greeted by Miss Meredith from childwatch and Mrs. Tracey from Kids Gym. Soon after, Josh Yoda arrived, who was one of his football coaches, and gave him a pep talk. All throughout the course he saw friendly and familiar faces that cheered him on and boosted his confidence (Terry, Marie, Julia, Tyran, Gary, Robert, and Faith). He completed every obstacle, most of them unassisted, and is already talking about doing it again next year. As a bonus, his occupational therapist who successfully discharged him from her service signed up and went through the course at the same time and got to see how great he did! What a boost to all! Being part of the YMCA has been of tremendous benefit to Owen and I have seen him mature and grow so much over the last year. My heart is so grateful for the community, support, and genuine investment in helping him grow!
From a grateful mom,
Bailey Evans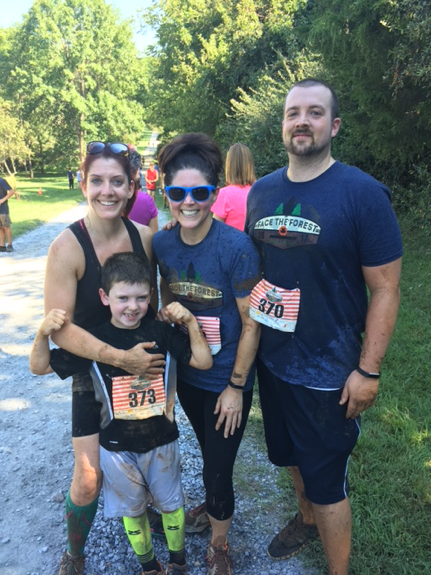 ---
CREATING OPPORTUNITY.
Summer at the Y aims to ensure that our most vulnerable youth beat the odds that are stacked up against them. Families that are facing financial hardships can be sure that their children are safe and well cared for.
Nakesha's children had never been to the zoo, they had never had a vacation. Nakesha learned about programs at the Y, and knew that this is just what she and her kids needed, a place that cared, and wanted to see her and her family succeed.
---
STRENGTHENING FAMILIES.
She lost her daughter, her health was declining, and she had two young grandchildren in her care. Thomasine felt hopeless, that's when she turned to the YMCA of Central Virginia, where she found hope, and a new lease on life.
Beyond fitness facilities, we provide programs to promote healthier decisions, and offer a variety of programs that support physical, intellectual and spiritual strength.
---
CLOSING THE GAP.
Whether it's gaining the confidence that comes from learning to swim or building the positive relationships that lead to good sportsmanship and teamwork, the Y's Achievement Gap Programs is about building the whole child, from the inside out.
Intervention, enrichment activities, nutritious meals and a safe space during the summer means that kids can go back to school in the fall, feeling confident and empowered.
---
A SPACE FOR HEALING AND HOPE.
After a move that promised a fresh start, Rhonda found herself in a tough situation. Desperate to provide normalcy for her and her 4 children, she turned to the Y, only to find out later that she had cancer.
Through relationship forged at the Y, people find hope, healing, a sense of belonging and a place where they can pursue their quest for a full and healthy life.