EXPLORE MEMBER BENEFITS BELOW
ACHIEVE PERSONAL SUCCESS
FREE FitQuest Appointment or Fitness Orientation
FREE group exercise classes
FREE lap swimming
FREE racquetball
FREE lap and family swimming
UNLIMITED access to wellness center
CONVENIENT AND AFFORDABLE
NO contracts or joining fees
UNLIMITED access to three locations, two lap pools, two family pools, gymnasium, racquetball, welness centers, dozens of group fitness classes, free weights, and more!
SENSIBLE membership packages that fit with your families needs
FINANCIAL ASSISTANCE is provided through generous donor support
RECEIVE PROGRAM DISCOUNTS
SAVE up to 20% on personal training
SAVE up to 50% on swim lessons
SAVE up to $100 summer camp
SAVE over 25% on youth sports
SAVE over $100 a year on before and after school care
CREATE A STRONGER FAMILY
FREE family swim and gym
FREE interactive kidz gym
FREE family and kids fitness classes
FREE racquetball
DISCOUNTS on special events
FREE childwatch for those with family memberships
---
---
Your membership means more at the Y! More for you, more for your family, and more for your community! Click below to find out more about Y membership, or start changing your life today and download a membership application now.
A BETTER YOU MAKES A BETTER US, AND A BETTER YOU BEGINS AT THE Y, WHERE MEMBERS GET MORE
Over 100 free adult group and water exercise classes with convenient drop-in schedules
Unlimited use of our modern fitness equipment, and wellness centers
Unlimited lap swimming, and family swim time (at branches with pools)
Free Y Fit Start program with your own coach to help you get started
Free orientations to learn how to use the cardio and strength training equipment
Discounts on personal training
Savings on on programs including swim lessons, youth sports, and more
Access to free on-site Child Watch, while you work out - please click here to read more about Child Watch policies
Access to our Family Friendly Interactive KidzGym (Jamerson Family Branch)
Free access to all YMCA of Central Virginia Branches
Limited free guest passes per year to share with your Y with friends and family
---
Check out our branch benefits page! Visit the Downtown YMCA, Jamerson Family YMCA or Express.
Nationwide Membership enables you to visit any participating Y in the United States through membership at your "home" YMCA (your home location is the facility that enrolled you as a member and that collects your membership dues).
We offer this because we want to help you reach your health and wellness goals wherever you live, work or travel. This is an essential part of our cause of strengthening communities.
What You Need to Know
Valid for active, full facility YMCA members
Nationwide member visitors must use their home Y at least 50% of the time
Program-only participants and special memberships are not eligible for Nationwide Membership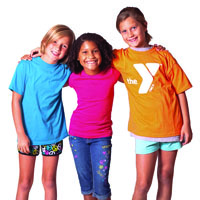 YOUTH
Any child, 14 - 17 years old
Joining Fee $0 | Monthly Dues $27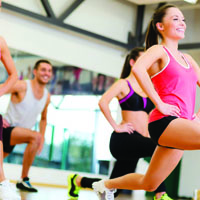 ADULT
Any individual, ages 18 or older
Joining Fee: $0 | Monthly Dues $46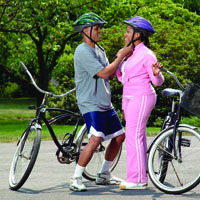 COUPLE
Any two individuals living in the same household
Joining Fee: $0 | Monthly Dues $68
FAMILY
Any 2 adults living in the same household and their children under age 18 (extended families). Additional adults may be added for a $20.00 fee per adult. Limit 4 adults per household. (must present proof of address with membership application*)
Joining Fee: $0 | Monthly Dues $75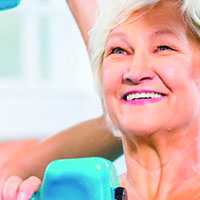 ACTIVE ADULT
Any individual, age 65 and above
Joining Fee: $0 | Monthly Dues $43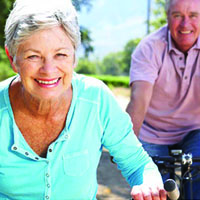 ACTIVE ADULT FAMILY
You may qualify for a Active Adult membership if at least one of the adults is age 65+.
Joining Fee: $0 | Monthly Dues $67
Since the YMCA is a membership organization, we strive to better serve our dues paying members. We do welcome guest, and encourage members to bring a guest to visit the Y to see the facility and amenities we offer, but require them to follow policy. Please note our policy on guests at the Y.
In-TOWN GUESTS
Guests are allowed to come with a member with a guest card, or they must pay a guest fee. Each year per member request, an adult membership will get 3 cards, couple membership will get 4 cards, and a family membership will get 5 cards per year. Without a guest pass, guests may pay a fee of $10/day if they are under 18, or $15/day if they are 18 and older. All guests must show ID and complete a guest registration form and be identified as such. Guest passes will be issued after two months' worth of membership fees have been successfully drafted. All guests must be with a member 18 or older. Also the member is limited to a MAX of 3 guests per visit
OUT OF TOWN GUESTS
Any out of town guest will be allowed use of the facility if accompanied by a member at no charge for one week (7 CONSECUTIVE DAYS). The guest must have proper out of town identification and must reside 60+ miles from a YMCA of Central Virginia facility. Member must accompany the guest every visit, also the member is limited to a MAX of 3 guests per visit.
NATIONWIDE MEMBERSHIP
Nationwide members may scan in with their membership card and use the facility as long as they are using their "home branch" 50% or more of the time. Members may not use facility without their YMCA membership card from their home branch.
OUT OF TOWN GUESTS WITHOUT A MEMBER
If an out of town guest that is in the area on business is not a current member of another Y, and wishes to use the Y, they will need to purchase a ONE WEEK OUT OF TOWN GUEST PASS for $35/week.

WE DO NOT ALLOW WALK IN'S (WITHOUT A MEMBER) TO PURCHASE DAY PASSES. NO GUEST PASSES FOR ADULT BASKETBALL REGARDLESS IF THEY ARE WITH A MEMBER, AND THERE ARE NOT ANY "AGREEMENTS" WITH LOCAL HOTELS FOR FACILITY USE! IN ORDER TO RECEIVE GUEST CARDS OR TO BRING GUESTS, YOUR YMCA MEMBERSHIP MUST BE AT LEAST TWO MONTHS OLD.
The YMCA of the Central Virginia provides financial assistance for children, teens, adults and families who cannot afford the full cost of a Y membership.
If you are looking for financial assistance for YMCA programs, we offer that too.
We use a sliding fee scale based on total household income and the number of household members. We require supporting documentation to verify household size and income, and we consider special circumstances when providing assistance.
Recipients are expected to be responsible for a percentage of the membership cost.
HOW DO I APPLY?
Stop by any one of our three convenient locations and pick up a financial assistance packet.
Complete the form, and attach a copy of the required financial documents.
Return the application and required documents to any YMCA of Central Virginia location.