BECAUSE TOGETHER, WE CAN MAKE OUR WORLD BETTER
We believe that lasting personal and social change can only come about when we all work together to invest in our kids, our health and our neighbors. Together, we use our knowledge to develop stronger, more integrated communities, provide support for people and families, and promote positive change overall. We know that when we work together, we move individuals, families and communities forward. We are also committed to inspiring a spirit of service by uniting individuals from all walks of life to participate in and work for positive social change.

Angel Tree
The YMCA of Central Virginia currently serves 527 children through our before and after school programs. Nearly half of these children are currently on financial assistnce through the YMCA's scholarship program. Each year our staff, volunteers and members come together to provide these children and their families with gifts for Christmas, and special holiday memories. In 2016 we were able to provide for over 200 families. The children and their families enjoyed a day at the Y meeting with Santa, making holiday crafts and wonderful memories.
---

Laurel School
In the Fall of 2014 the YMCA began a partnership with the Laurel Regional schools as a sight for Community Based Instruction. Once a week Y Staff provide work projects at both Jamerson and Downtown that are completed by the students with the help of teachers and aids from the school. Our partnership serves as a place for students with special needs to have experience completing work tasks in a community setting with the added bonus of physical activity as the incentive for completed tasks. After completing work projects (shredding papers, sorting donated items, cleaning/sanitizing toys from CW/KG), they then engage in activities in the basketball gym or the Kidz gym. One of the goals of this partnership is that the Y becomes a safe place for all of these students. Creating a familiarity with a community organization such as the Y will instill a sense of confidence and independence to these students who often require assistance for many tasks in everyday life. In addition to the Community Based Instruction, students particpate in wellness education and courses at the Downtown YMCA, including physical fitness, and safety in and around water swim lessons.
---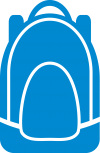 Bright Beginnings
With the generous help from Y members and local businesses, Bright Beginnings gives low-income, high-risk Pre-K – 6th grade children the opportunity to go back to school with necessary school supplies to ensure success for the upcoming school year. Each child participating will receive a backpack filled with essentials that are age/grade specific. Without these essential items, a child's self- esteem is affected and their self-confidence is lowered. With little effort and a caring spirit in our community, we can help children have better self- worth, which provides a vital foundation for better attendance, academic achievement, and success.
---

Fort Hill Community School
Our partnership with Fort Hill Community School began in 2011 as an incentive middle school students to work harder academically and socially. By fulfulling their commitment in the classroom, Fort Hill students are provided weekly swim lessons and structured wellness games and activities in the Phelps Family Kidz Gym. They also become Y-Fit certified through our Wellness Center, encouraging their overall health and well-being. The Y also provides directions and resources for incentives outside of the Y, such as local nature hikes or fun days in various community settings - particularly outdoor settings!
---

Aqua Poets
As part of a 21st Century grant awarded to the Lynchburg City School System the Downtown YMCA and Dunbar Middle School have developed an all encompassing after school program for middle schoolers. Youth learn about exercise, healthy lifestyles, and nutrition as well as receiving vital life saving swim lessons. Peer to peer skill building is built into the program helping kids learn how to problem solve, be team players and communicate with one another.
---

Tai Chi
Free tai chi classes are being offered at the Centra Alan B. Pearson Regional Cancer Center. Tai Chi has many health benefits and can lead to improved muscle strength, balance and flexibility. The instructor, Grand Master J. Teasley, has 39 years of experience with China's great masters, with a background in Chinese and Japanese martial arts and Chinese medicine. The classes, which are open to the public, are being sponsored by the Jamerson Family YMCA.
---

Bridges
This partnership is an incentive for the residents of Bridges Group Home to further develop their social skils and behavior management. By fulfulling their commitment, residents are rewarded with special trips to the Jamerson Family YMCA with access our Kidz Gym and pools.